Ah.. it's been a while, I never post anything on my blog except my unversity homework, project or such.. Yep, I done so much things in this semester, outside project, I mean side-project from my mates, yeah mates, I mean they give me a few bucks to works on their project, and yeah I need money too, because last time my laptop broke. The power port for the thin power cable on the mother board fuck up, and the cable also fuck up, and it happena few days ago, on Christmas Day to be exact! How could something happen on Christmas Day! Yeah that happened to me, and I need to bring it to Hi Tech Mall(If you are Surabaya-yan, then you should know what's it, just search in Google what's Hi Tech Mall, hehehe…), but many people told me that hi tech are closed, because it's Christmas, and who the hell will open their tenant or store on Christmas day! Lucky me, a a repair center is opened, It's General IT on First Floor on Hi Tech Mall, near Borneo Computer and Discount Notebook (I quite recomend it, and I just wrote the review on Google Maps a few days ago for them). First time it's quite hard to talk, because they just want to change the thin cable, awm cable or such, that used on DVD for same purpose, like wiring and such.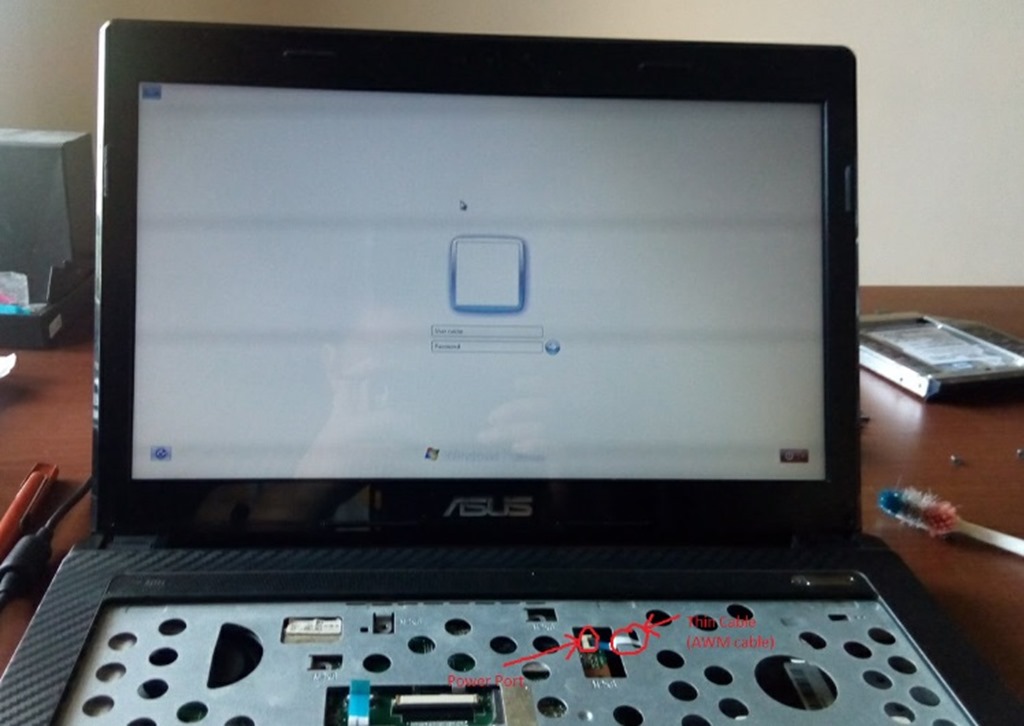 Asus A43SV AWM Cable
And you see, that's the part I'm talking about. If you see in detail, that the port is broken without the locker. Last time when I service this laptop for cleaning (yep, laptop need cleaning every year if you work on dusty environment, like mine, because I always works beside the window), the repairmen broke that part, and I never know until I graduate from highschool, that literally about 2 years, and at University, one of my friend that good at opening and clean laptop, ferry, offer free cleaning for my laptop and found it, suddenly I never have idea about 2 years why my laptop sometimes just sleep or hibernate without reason, just because of this shit.. hahaha… too much swearing words, I don't even know that it could happen. And that time he suggest me to keep it with a paper so the cable stick with the port, by occupy the rest of the pin and put down the cable.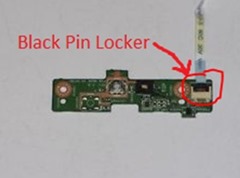 The Black Pin Locker I telling about
So At the moment when I can't even turn on my laptop on yesterday Christmas, I sceew up.. and I talk to the General IT Repairment, how about change the port too, because he charge me about 150rb rupiah, that about 12-13 bucks USD, anyway, and In Indonesia you could eat until 3-4 days with that money, that money amounts a lot for me, So I negotiate how about he also replace the port, even with the used(second-hand) port, from another broken mother board with the same price. And he agree with me, so I'm waiting for it. And in 1 hours, it done and he also give me a second hand awm cable to replace mine. I'm quite impressed with it and also happy. Because everytime I open my laptop for cleaning, once or twice a year, it comes to nightmare when deal with the power port. Anyway even not too tidy when he soldered back in order to change the port, I'm quite sastified with the result.. and I think it's a good ones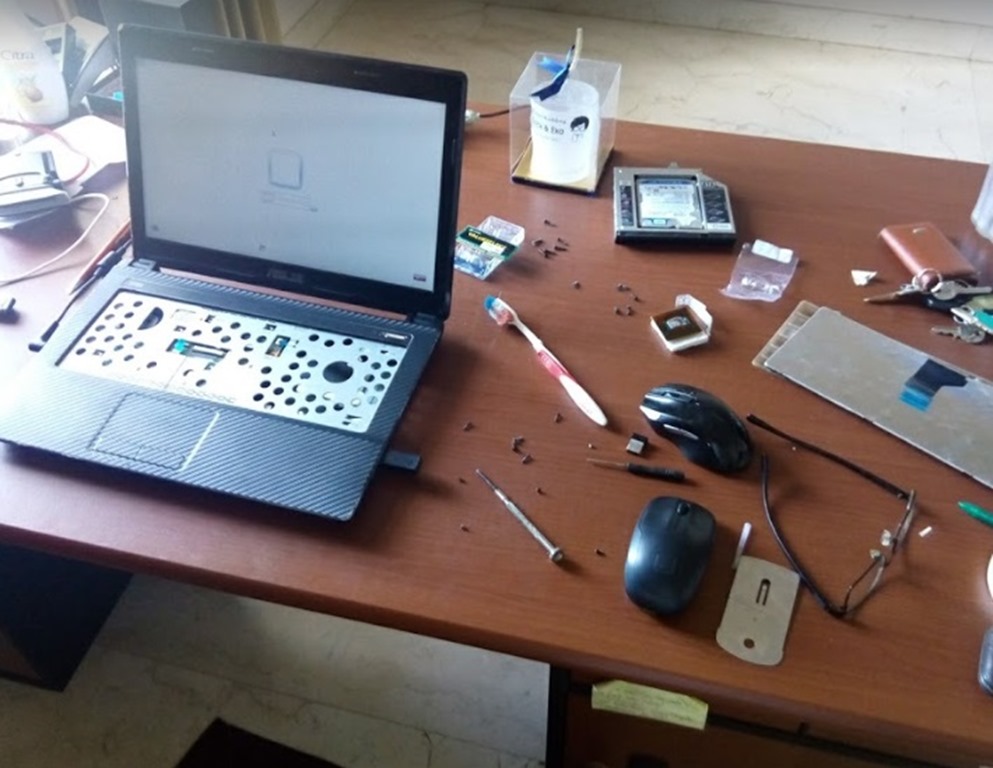 My Desk Become messy when I tried to fix the Port and it Failed
Why I'm mad at the time when the port broken, because I haven't done my project, and I dunno how to fix it, because for now, for change a laptop isn't a option, even I just get a second hand i5-2430m cpu from Tokopedia(Yes the stock is empty because I bought it anyway). My felow friend on the same room, told me that it isn't a good Idea to upgrade it, but for now I'm quite impressed, because it's quite enough for making Visual Studio 2015 compile and run faster hehehe.. because I've problem with the i3 Performance that doesn't suite my problem when comes to compile code for native machine like DotNet or Android(and my 5 years old laptop is struggling with it), So I gambled with it, by buying a second hand CPU from inside the country (I've seen cheap CPU on some Alibaba's retail, but the problem, I dunno about the taxes that will be charge on it, and will it works or not with my ASUS A43SV). So I bought it and when It comes to open and clean the laptop, I also chang the CPU, and test it if it runs or not. At the first time, it's not booting because of ASUS Fancy boot, I don't know that Fancy Boot will cause not booting, so I tried to turn off the fancy boot, and it boots. I check the BIOS, it detect the CPU, so It works.. (Thanks God both works, hehehe…)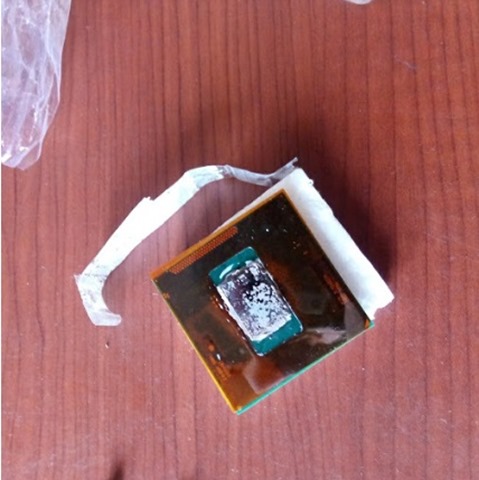 The Old i3-2330m from ASUS A43SV
So I think my prolem solved and I could stay a little longer on this ASUS A43SV. I love this laptop a lot.. it have been with my about half of my life, run smoothly, although it still use windows 7 (I once tried to upgrade to windows 10 and it didn't end well, always overheat because of the telemetry or such). So I will keep it until the EOL of windows 7, and when it comes, I will switch to linux, for now I can't because most of the proprietary HW is only supported and stable on windows, such as Nvidia always overheat on linux… I dunno why and I still not experimented with some linux stuff, I will wait untill it's time it comes to stable phase.. (when it comes then I will use it!)
Back my project, I'm still working on it, even it's holiday, because it's still a exam marks, and I still strugle, because some of the stuff isn't small module, it need more effort to maintain the problem though. I still trying to work on it and using my beloved text editor and simple IDE from Visual Studio Code. It just works and zero configuration.. I think this's why MS won in this race, on linux maybe yes it's supporting it, but the problem is one, but guest what, on linux you must do many things because it's start to work, and it's painful for it, hahaha.. I maybe a geeks, but not 100% geeks that pay too much attention on it.. because too much effort when there's something working and free to use it just not efficient for me.. I think that's the way how world works with some problem, hehehe…
Still workin on it…
So that's my random though for today, also my laptop feet, I remove it, because it's not useful enough when comes to portability, and I see that I've a external laptop fan that works better on it, so I stick with it, anyway MERRRY CHRISTMAS! God Bless you all!